---
Finally I have a brand new website! I had the wonderful help of my husband making this new webpage and I am so happy it is finally completed. It has been updated with more recent works and more information about what I have been up to. I am now working on creating a blog as well. Blogs are new to me, but I hope to make it work!
My Current Transition from Europe Back to the USA
For nearly a decade I have been living in Europe, either for study, for work, or for life in general. My experience here in both Italy and Spain has changed me as a person, I believe for the better. It has expanded my artistic knowledge as well as my knowledge of the world.  I was able to meet people from all kinds of nationalities and of all different ages. My time here also allowed me to meet my husband, Maurilio, an italian.
We met in Florence as art students and quickly became friends. Long story short, we eventually got married in his parent's backyard in their summer home on Mount Etna. We decided that, for us, life as a couple was better made in the US.  So I left my job at the Barcelona Academy of Art where I had been teaching, to start paving the road to the US with my husband. Unfortunately there was a glitch. His visa. We started our US visa paperwork in May of 2016. Today is June 14 th 2017, a year later and still no visa. We decided to stay with his parents to save money for the big move while we were waiting for his visa. What was a few months wait quickly turned into over a year long wait. The most difficult part being that it is nearly impossible to plan anything. At any moment we may get word from the government that we have to gather more documents, go for an interview, essentially you are always just on call.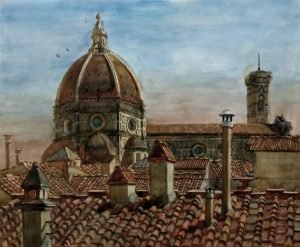 However, in this wait, some good things have happened. For one Sicily is incredibly beautiful. I really fell in love with this island. My Italian has greatly improved and I have learned many new skills, like how to make pasta! We are extremely lucky as well to have met a local artist, Giuseppe Sciacca, who gave us etching lessons. I was able to get to know my husbands family much better since I have been living here and that is a blessing in itself as we will be living so far away in Montana. I am grateful to have been able to meet everyone, including his 102 year old grandpa.
Once we get my husband's visa we will be on our way to Missoula, Montana, where my family lives. We chose Missoula for several reasons.  My family being there is certainly a factor, but it is also a place where both of us really just felt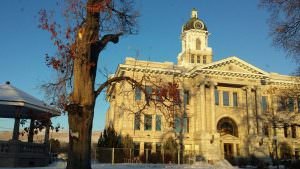 comfortable being ourselves.  The city seemed to fit with our personalities. It is a place where if you need to be alone in your world for a while (essential to an artist) it is a perfect place to do so, with vast nature only a 20 minute car ride away. The people are friendly, calm, and all appreciate art. We felt an overwhelming sense of peace traveling there as a couple.  We felt it was the place we want to start our lives together as a family.
I can't wait to move to Missoula and to get to know the artistic community there. I have seen it and it seems very much alive. I also can't wait to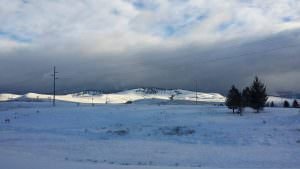 start participating again in events like the Portrait Society of America conferences. There is so much going on in terms of Art in the US. I am really looking forward to being apart of that again. Crossing fingers that will all start this summer…visa granting…